HOW TO GET YOUR YOUTUBE VIDEOS TO MP3 CONVERTED
Youtube is the top trending website which allows you to watch, like, share videos of any kind. Without even registering you can watch any video songs, movies, trailers, etc etc. But to upload your own kind of video you need to register an account on www.youtube.com. It is free of cost. Most of the videos are uploaded there by individuals but there are many official channels who share their own videos.
Now comes the main problems of most of the users. Many songs of other singers which we like are not available outside youtube. So we need to download the whole video just for a song. But it will not happen in this kind of developing generation. There are many best ways to get your liked video to convert it into mp3.
The best site which i prefer and i myself use for some videos is
Steps to get Converted Your videos to MP3
First open http://www.youtube-mp3.org/
Copy your youtube video URL as soon in the image.
Next go to Youtube-mp3 converter page and paste the URL in the given box.Click on Convert Video
Success..!! Your video will be completely converted into mp3.
Just Click on Download as soon in the image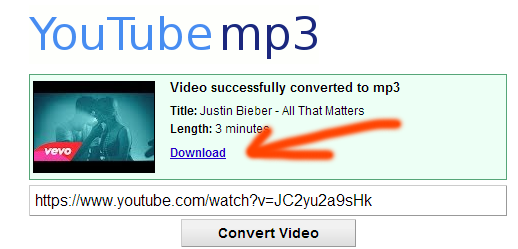 There are many other sites which allows you to convert for free such as