It is quite possible to turn your Android phone or tablet into a full-fledged kiosk. This will allow you to lock your device down to a whitelisted selection of apps or a single browser window. Here's how to enable Kiosk mode in Android devices.
Furthermore, you can have your own handle-mounted digital signage or video wall. Using the applications given below, you can create different kinds of kiosks with your Android phones and tablets.
How to Enable Kiosk Mode in Android Devices
1. Whitelisted Websites Mode
Sometimes you might want your device to run only one or more websites in full screen, making it easier for visitors to peruse your offerings, run searches and have a good user experience.
An application such as SureFox helps you set up a kiosk in a single website or multiple-website mode. To start, download and install the application on your phone or tablet and kidly proceed with all the required permissions.
Setting up the app is very easy, as it comes with simple standard permissions.
The app will prompt you to click on the screen five times. Then enter the default password to continue.
Now go to "Allowed Websites" to add or edit the whitelisted URLs.
After that enter the website details and URL. You can also hide the URL and redirect all the error pages to this website.
Once your device is in whitelisted-websites mode, the user can only access those websites and nothing else. The free basic mode comes only with a default password which you can safely quit.
You can achieve a complete lockdown of the phone except for the whitelisted sites while getting rid of the watermark with a pro license.
2. Digital Signage and Video Wall Mode
To convert your phone or tablet into digital signage or into a video wall, you need to lock down all other apps. For doing this, you can find video kiosk apps such as this one.
As soon as you download and install the app then the app will guide you to a "folder" where you can add the required photos and videos.
Now you can add as many photos and videos from any folder on your phone or tablet. To play YouTube videos however you need to download them ahead of time.
As soon as you tap on "Confirm," the device will turn into a rotating photo stand or video wall. There are also more options in "schedule" and "management." You have to set a password to make sure no one else is able to change your kiosk settings.
3. Multi-App Mode
Restricting your phone to run only select apps is quite useful in case you are outdoors or need a break from updates and app notifications. If you are an event organizer then such a setting could help you create an immersive experience for your visitors.
First, download and install Scalefusion to lock down your phone or tablet to one or more apps only. In the beginning, you will be asked to name the device.
As a device administrator, you will basically have to activate several permissions. These include the app's ability to erase all data, customize the screen, unlock password, lock the screen, and more.
Just provide the app all the required permissions for device admin, usage access, and app notifications.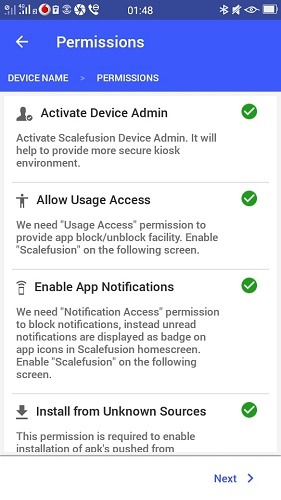 Now select Scalefusion when the dialogue opens, and then choose "always" to set it up permanently.
In the next screen, you will get a choice to run the device in a single mode or choose a handful of apps.
Here select all the required apps that you want device users to be able to access.
Here the Android phone is in multi-app mode, running only four apps at the most. You can also restrict users from accessing Wi-Fi connections, view device-specific data, visit any address bar, and a lot more.
Tap on the three-dot menu to exit the kiosk mode. It will ask you for a default password. With a pro account, you can not only prevent an exit from the kiosk but also can disable factory reset, the power button and more.
Conclusion
Nowadays, digital kiosks are a familiar sight everywhere. For an older Android phone or tablet, a kiosk is one of the best uses, considering its fading memory and outdated specifications.
After converting a tablet into a kiosk, you may be looking for a fixed tablet stand which swivels around a pivot. Finally, if you are on a vacation or busy, restricting the device to just a few apps is not such a bad idea.