Sometimes signing a digital form can be painful. When you have to sign them digitally and send them back. But now you can easily add a digital signature to a PDF on computer, laptop, smartphone or tablet by following our guide below.
Nowadays we transfer a large number of forms digitally, where you need to sign them digitally. But it does not mean that you have to print it out and sign them.
There is software available for creating a digital signature which you can add to the required file. We are going to show you how to sign on a digital form without printing it out or using a pen.
How do I sign a PDF?
Today, Adobe is a major name in PDF editing. Adobe Acrobat Reader allows you to sign, annotate and view the PDFs. You can sign a PDF easily by using Adobe Acrobat Reader for free.
You can also create PDFs, convert PDFs to word or excel format. And protect files by password, tracking responses files by getting an Acrobat Pro DC package.
It costs you $14.99 or £15.17 for a month and $24.99 or £25.88 for a year. Adobe also gives you a 7-day trial pack after which you can decide you want to buy it or not.
For those who run their own companies should know that Adobe sign comes for small business. Adobe Sign allows you to create online forms from any pdf, which can be signed by customers.
Besides all this, it also offers the ability to collect payment and can handle mass mail-outs in the simple process by letting you know all about it.
You can buy it for a monthly subscription or annual subscription. The price of both is mentioned on Adobe's page. But here also you get a free trial before purchasing so that you can know more about it.
How do I create a digital signature in Adobe?
You can create a digital signature in adobe by Downloading and installing the free Adobe Acrobat Reader. Then run the program and launch it on your system.
Then open the PDF form that you want to modify then go to the right-hand column and scroll down until you find the Fill & Sign option.
After this, you will be asked who will be the signatory. Click the Me button then select the Sign option from the Fill & Sign bar at the top of the document.
Now you will see two choices: Add Signature and Add Initials. Choose the Add Signature option and you will be able to create your signature.
Three styles are available which you can go for and they are Type, Draw and Image. You can try with any one of them, but if you want to keep the traditional signature, then use the Draw option.
Click this and you will be able to use your mouse or trackpad to sketch your signature. Just remember to hold down the mouse/pad button at the same time.
In case you did not like the result or made a mistake then, click on the Clear button to have another try. When satisfied with the result then make sure the Save Signature box is ticked then click Apply.
How do I add a signature to Adobe PDF?
Till now if you could not add a digital signature to PDF of Adobe follow the steps mentioned above. Then, you will be taken back to the previous form, with the signature now available on the screen.
Drag it to the place in the form where it needs to go, then click to drop the image in place. A box will appear around the signature with a small and medium-sized A at the top.
This is the tool for adjusting the size of the signature, but you can also click and drag the edge of the box to achieve the same result.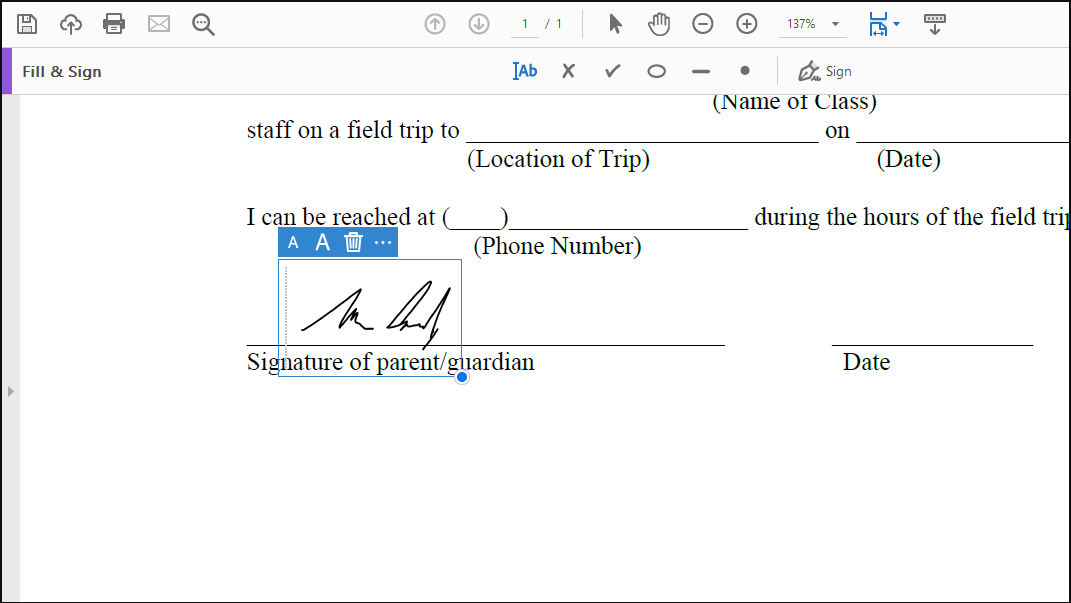 Then click on three dots it will open up a further menu with a tick, cross and other symbols. If you want you can also use these instead of your signature
When you are finally finished with adjusting the size and placement of your signature, go to the top left corner and click on the Save icon.
Now you will have a digitally signed version of the document that you can send, instead of printing it out and sending it by post.
Adobe Acrobat Reader will store the signature, so when you need to sign something else, you will see it pop up as an option when you click the Fill & Sign icon.
How do I sign a PDF on Android or iPhone?
Sometimes if you want to use your phone or tablet to create and apply a signature then do check out the Adobe Acrobat Reader for Android and iOS, It mostly offers the same method and comes with same features.
For example, in the Android version you need to open a file then tap the edit icon (blue circle with a pen inside), tap Fill & Sign, and select the pen icon on the right-hand side of the option strip that appears along the bottom of the screen.
Then, select Create Signature, and you will be able to draw your legend using your finger or a compatible stylus.
When you are done, save it by tapping Done in the top right corner. All you have to do more is to tap on the area you want the signature to appear on the document.
Tap and hold to drag it into the right place, then tap the tick icon in the top left corner to save the results.
Now that's how you can add a digital signature to a PDF and send back to the sender.